Supporting Manchester Central Foodbank during Covid-19
24 Apr 2020
The School of Environment, Education and Development and Manchester University Geographical Society has pulled together staff and student support to fundraise online for Manchester Central Foodbank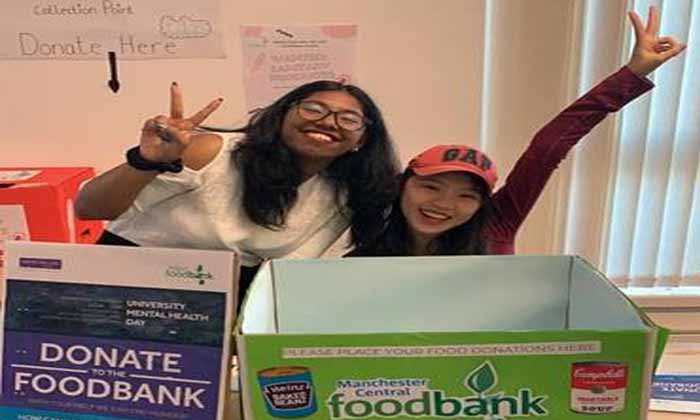 The School of Environment, Education and Development (SEED) has been carrying out campus collections for Manchester Central Foodbank for the last two years. Together with the Manchester University Geographical Society (MUGS), whose annual fundraising events had to be cancelled, they decided to set up an online fundraiser to continue support.
YiShan Jiang, who was recruited as a student volunteer Foodbank Champion last semester, said: "Our goal is to increase food donations and support Manchester Central Foodbank at the University Chaplaincy. We started our roles in February, and were soon able to set up a new donation point in AMBS. Plans were well underway for a big Easter collection when most University activities moved online."
SEED and MUGS used their combined networks of both students and staff to promote the fundraiser. In the space of a couple of weeks, this joint partnership has led to increased donations from around £350 to £900 and is continuing to grow towards its ambitious goal of £1,500.
SEED has been collecting food donations for Manchester Central Foodbank since 2018. When MUGS had to cancel their annual fundraising ball and netball charity matches, the idea to collaborate was formed.
As a result of Covid-19, foodbanks across the country have faced enormous challenges. Demand has soared, and due to panic buying, Manchester Central Foodbank has struggled to replenish stock items. The pandemic has also meant that foodbanks have had to adapt their service as volunteers self-isolate.
Student Experience Intern Reuben Cutts says: "Now more than ever, foodbanks require our support. The money raised is going directly to Manchester Central Foodbank and will help local families who have been impacted as a result of Covid-19.
"We will be holding a virtual fundraising event in the coming weeks, so make sure to follow us on social media for more information."
How to donate
*Please note: the photo above was taken before Government guidelines on social distancing